Kneelength Lederhosen
Traditional Bavarian lederhosen combine traditional designs and high-quality materials with great charm. These leather pants, that every man can wear, are a true classic of authentic costume fashion.
Shop now!
Short Lederhosen
Men look simply dashing in these Bavarian lederhosen with short trouser leg. Because a good look isn?t everything, though, these leather pants win also with authenticity and comfort. Once you?re looking for a special item you may search for deer skin lederhosen.
Shop now!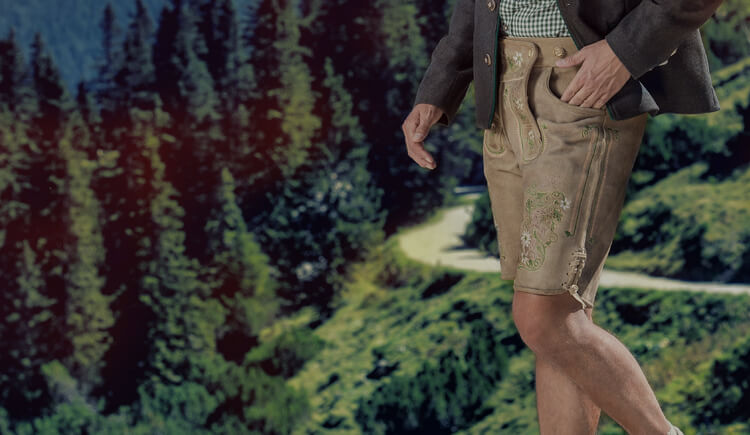 Goat Lederhosen
Goat lederhosen combine the best of both worlds and are still a highlight. As authentic as deerskin, as robust as suede - the wild goat?s leather is a badass. Discover this unique character in the form of Bavarian lederhosen!
Shop now!
Deerskin lederhosen
Deerskin leather pants are more than just a piece of authentic costume fashion. Chamois tanned deerskin transforms the lederhosen into a gem of Bavarian tradition. Here, much flair, genuineness and quality make every man happy.
Shop now!
A good alternative: Full package Lederhosen Costume Sets
Costume Sets - The full program!
One takes a pair of lederhosen, suspenders, shirt, socks and traditional shoes - done is the complete costume outfit. Put your personal, Bavarian look together with just a few klicks. A piece of tradition with price advantage!
Shop now!
Bavarian Lederhosen - Worth knowing!
Once working clothes, now symbol for Bavarian Tradition - lederhosen for men have already a long history. That?s why Bavarian lederhosen embody the values and the charm of our homeland like no other garment. As part and parcel of traditional costume fashion lederhosen find themselves not only at the Oktoberfest. Local fairs, weddings and other occasions are also wonderful reasons to put on your Bavarian leather pants.
The leather
Suede, goatskin, buffalo leather, deerskin - it can be confusing when it comes to the choice of material. Which leather is the best? This question cannot be answered in just one sentence. If you are looking for a cheap pair of lederhosen, that are dashing and robust at the same time, a model made of suede or buffalo leather can be perfect for you. Bavarian lederhosen made of goatskin are a little bit lighter and, therefore, lovely comfortable. With their longevity and their rustic flair, they represent the happy medium. If the leather has been processed with chamois tanning, the pants turn out even more superior. Chamois tanned goat lederhosen are a cheap alternative to the classic deerskin lederhosen. The latter clearly are the gems beneath the lederhosen. Deerskin is always subjected to the chamois tannin process and is, thus, likely the finest material of traditional costume fashion.
The cut
Classically, there are only two lengths of authentic Bavarian lederhosen. The knee-length lederhosen end just below the knees, the short lederhosen just above the knees. Only you can decide which one is the right for you. Every variation has its own advantages. Not every man can get on with the knickerbocker waistband while others are struggling with the breezy feeling of the short version. Short or klee-length - that?s the question here. If you can?t choose only one pair of lederhosen, we recommend ordering more alternatives. With our cheap return service, you can send the unsuitable lederhosen back easily.
The perfect Bavarian Lederhosen are just the beginning. For an authentic Oktoberfest outfit for men it calls for a pretty framework. For this purpose, there are, inter alia, a dashing shirt, matching Bavarian shoes and - for the smart ones - a beautiful charivari. You can browse through our online shop just as the fancy takes you. You will find everything that belongs to authentic Bavarian lederhosen - and even more.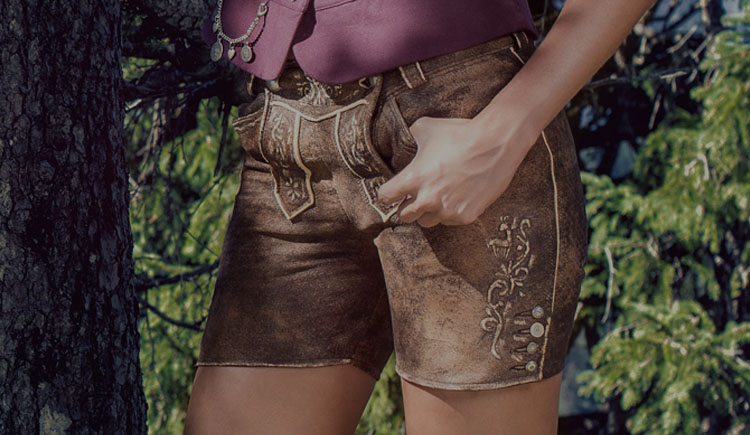 Ladies Lederhosen
The bavarian lederhosen for "her" is the perfect alternative to Dirndl and is at least as sexy and elegant. Depending on how much leg you want to show - we have the right leather pants for you!
Shop now!
Ladies Lederhosen Sets
What could be better than having no worries!? We create this state with our complete ladies bavarian leather pants sets, which creates the perfect appearance by the all-round carefree package.
Shop now!
Ladies Lederhosen
The short lederhosen for women embody girl power like no other piece of Bavarian costume fashion. Yes, you heard that right - nowadays even the ladies can confidently take hold of traditional leather shorts. The beauty of lady?s lederhosen is their informality. That dashing costume piece can be combined just undogmatically. If you like it a little bit fancier, you can choose an elegant Bavarian bodice that upgrades your whole outfit. If you like it rather casual, you better choose a traditional Bavarian blouse or even a classic t-shirt. In these ways, you are perfectly dressed for the Oktoberfest, fairs and countless other occasions.
The leather Beneath our women?s lederhosen, you will find different materials: Cowhide, buffalo and goat leather. But what?s exactly the difference? We give it away - short and sweet:
Cowhide leather has some advantages. The world?s most common kind of leather wins with its price-quality ratio that is without equal. It?s durable and robust but, nevertheless, clings to the wearer?s silhouette. Regarding our Bavarian leather shorts for women, we have processed this great leather in form of suede and nappa leather. The difference between these two kinds of cowhide lies in their surface finish. Cowhide suede leather has a porous, slightly rugged structure. Nappa leather on the other side, has a quite soft and sleek surface.
Buffalo leather is a little bit rougher and more open-pored than cowhide. Therefore, it provides a pleasantly rustic flair to the lederhosen. Like the cattle?s leather, the buffalo?s leather is also quite solid.
Goat leather, has already related to the tradition of Bavarian lederhosen for a long time. It?s lighter than other sorts of leather and, thus, scores with a quite comfortable wearing. But still, this material is robust and durable. A chamois tanning up values this precious material even further. If the leather has been subjected to this complex and original tanning process, the rustic charm and the unique grain comes better into one?s own.
The fit Because leather is a natural product, it doesn?t behave static. With every wear it adapts more and more to its owner. Experts even believe that original Bavarian lederhosen obtain their perfection not until they have been worn for several times.
When buying Bavarian leather shorts for women you should note, that they will widen over time. If you try them on for the first time, the leather pants should fit tight. There are adjustable lacings on the back of the waistband and on the legs (here you might also find buttons instead). The first times you are wearing your lederhosen, these lacings can be used for adjustment until the material has widen.
As soon as you have found your perfect lederhosen, you can add your personal style to your Oktoberfest outfit. A dashing charivari or a cute necklace would look beautiful for instance. There?s even more to discover while browsing through our Bavarian costume shop. Enjoy strolling!