Bavarian Costumes Shop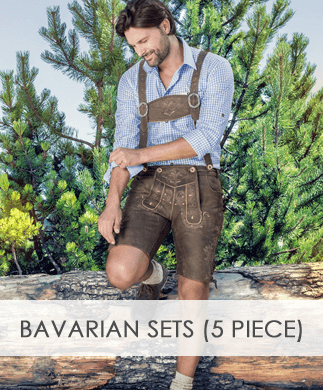 Bavarian Costume Sets
Smartly dressed from head to toe - guaranteed by our 5-part
Bavarian costume sets
, consisting of leather pants, suspenders, shirt, shoes and socks.
Bavarian cardigans
Bavarian cardigans
are the must have for every lederhosen owner. In our costume shop you will find a wide range of high quality bavarian knitwear.
---
Exclusive Dirndl
Stylish
Mini Dirndl
as well as jaunty
Midi Dirndl
from our Almbock collection make every appearance in bavarian costumes a real highlight and eye-catcher.
Bavarian Lederhosen Ladies
Dirndl Blouses
As different as the different tastes, we offer in our bavarian shop the whole palette of stylish and elegant
Dirndl blouses
.
Bavarian lederhosen, bavarian dirndl and a lot of more traditional costumes at Trachten24!
As distributor of the brand Almbock, we place high value on quality of our bavarian costumes. Our bavarian costumes are made of the finest materials and produced by hand with love. Whether you go with the bavarian lederhosen or mini dirndl of Almbock to the Oktoberfest in Munich or any other conceivable event - you will find the right costume with us! Our motto: the customer is king. If you have any questions to us, do not hesitate to contact us! We will help you at any time and as quickly as possible.
At Trachten24 you will find a variety of dressy bavarian lederhosen for women and also for men made of best materials. Each of our bavarian lederhosen is unique. With a lederhosen of Trachten24 you are always dressed smartly - no matter when and where! Our range of bavarian lederhosen for men and women is increasing rapidly. You'll be spoiled for choice between short and knee length bavarian lederhosen. Similarly, we also offer bavarian costume sets for ladies and gentlemen you will find in our online store! Wearing a bavarian costume like a lederhosen got more and more trendy in the past few years. It belongs therefore to the basic mandatory equipment.
For ladies, we offer a constantly expanding and changing range of bavarian midi and mini dirndl that could be worn for example on the world famous Munich Oktoberfest. Similarly as for the lederhosen a bavarian dirndl should be standard equipment and not miss in anyone's wardrobe. Bavarian dirndl of Trachten24 are manufactured under strict quality guidelines and provide an optimal fit for you. Select your favorite item (s) from our collection!
Read more
Read less
Service
Hotline: +49 (0) 941 - 599 527 60
For questions we would be happy to advise you by phone. Office Hours: Mon - Fri 12:00 a.m. - 05:00 p.m.
Free shipping
Guaranteed free shipping within Germany and already from 6,90 € within the European Union
Secure shopping with SSL
Protection of your data via 256-bit encryption throughout the entire order process and contact form
Shipping
Worldwide parcel delivery
We offer worldwide insured delivery in 210 countries around the world - at unbeatable shipping rates
24 hours Express Shipping
For urgent deliveries we offer till 02:00 p.m. every day 24 hour express shipping with guaranteed delivery the next working day (Mon-Fri) - More
Get Bonus Credits
Tell a friend
Tell a friend of Trachten24 and you will get after his successful registration a bonus of 5€ to your registered account.

 
Why you can shop safe with us
/Trusted-Shops-1 #trustedDiv
Recommend us and you and the referred person receive a bonus credit in the amount of 5€ credited to your account.
How it works:
Rate us and our products and you will receive a bonus credit of 5€ credited to your account.
How it works
:
If you still do not have a customer account with password access register under this link.
Login into your account afterwards.
Navigate to the purchased item and scroll with the mouse slightly down to the tab "Ratings". Here you can review each product by clicking the button "Review product".
After successful editorial verification of your review a bonus credit of 5€ will be credited to your account.