Bavarian Lederhosen
As foundation of every Bavarian look, the traditional lederhosen should be chosen wisely. Fortunately, there is the right pair for everyone. Whether they end above or below the knee, whether suede, goat or deer skin, whether with our without suspenders - the well-being is guaranteed!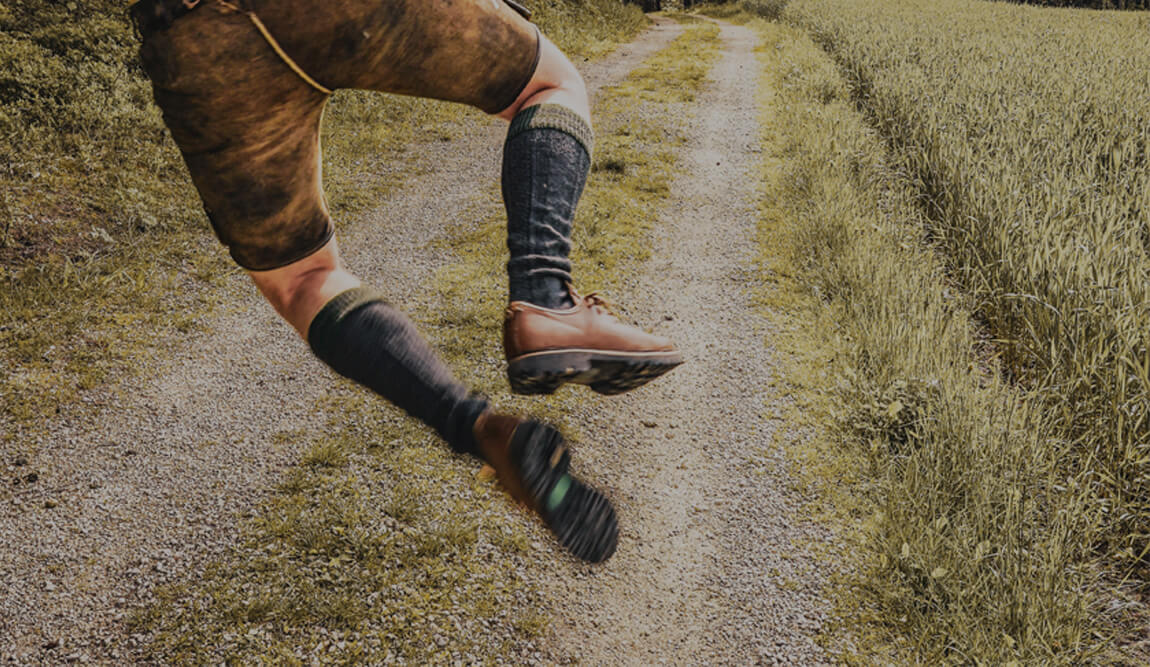 Bavarian Costume Tops
As soon as you are ogling with a proper pair of Bavarian lederhosen, it already continues with selecting the right combo. You can choose from classic Bavarian shirts over precious Bavarian vests up to warming cardigans and Bavarian Jackets. Collect your perfect Oktoberfest look!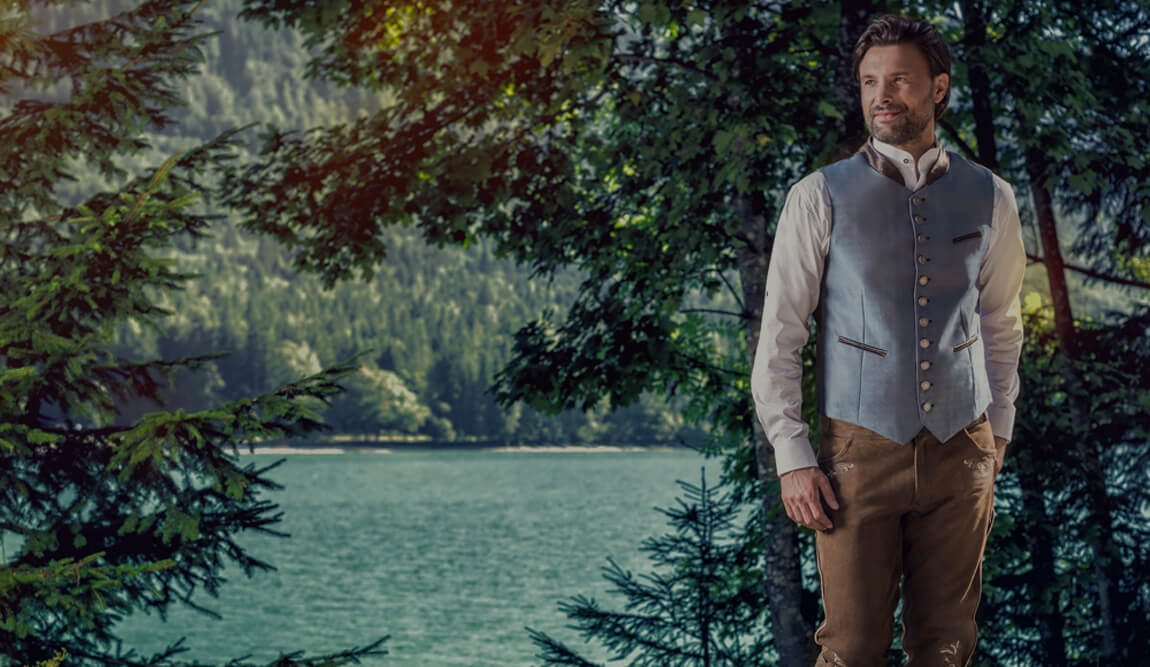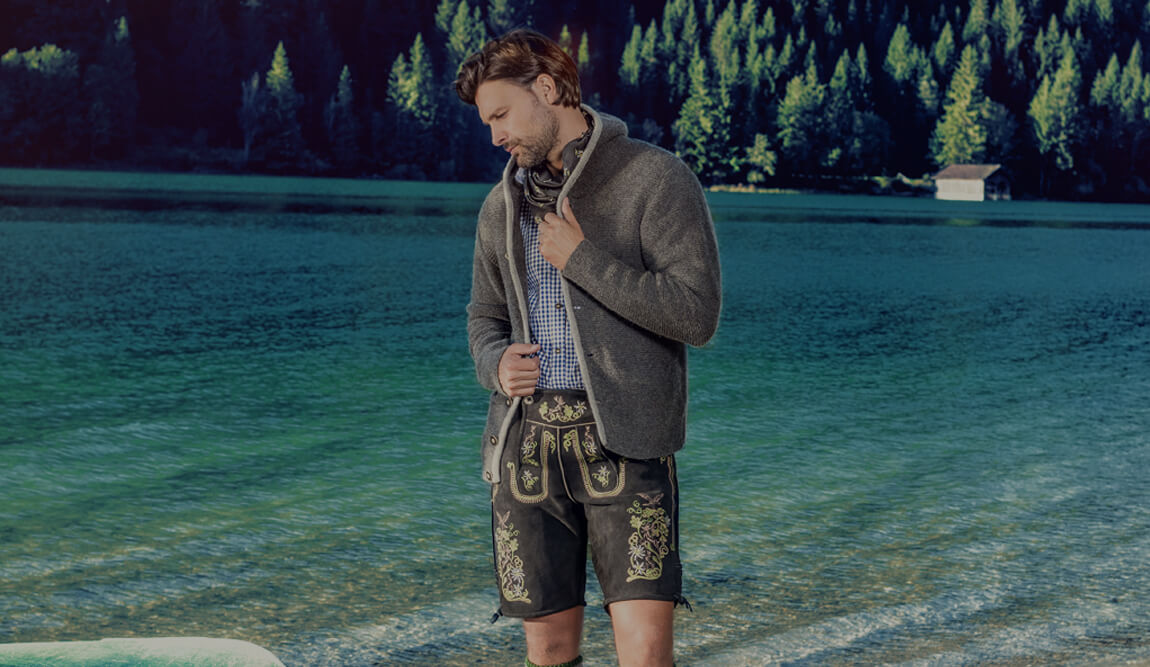 Bavarian Footgear
Finally, it lacks in the matching footgear. Traditional Bavarian shoes, also known as Haferl shoes, belong to every pair of lederhosen. Dashing Bavarian socks or even traditional Loferl are the perfect addition to that. With the right footwear, the walk to the Oktoberfest only feels half as far.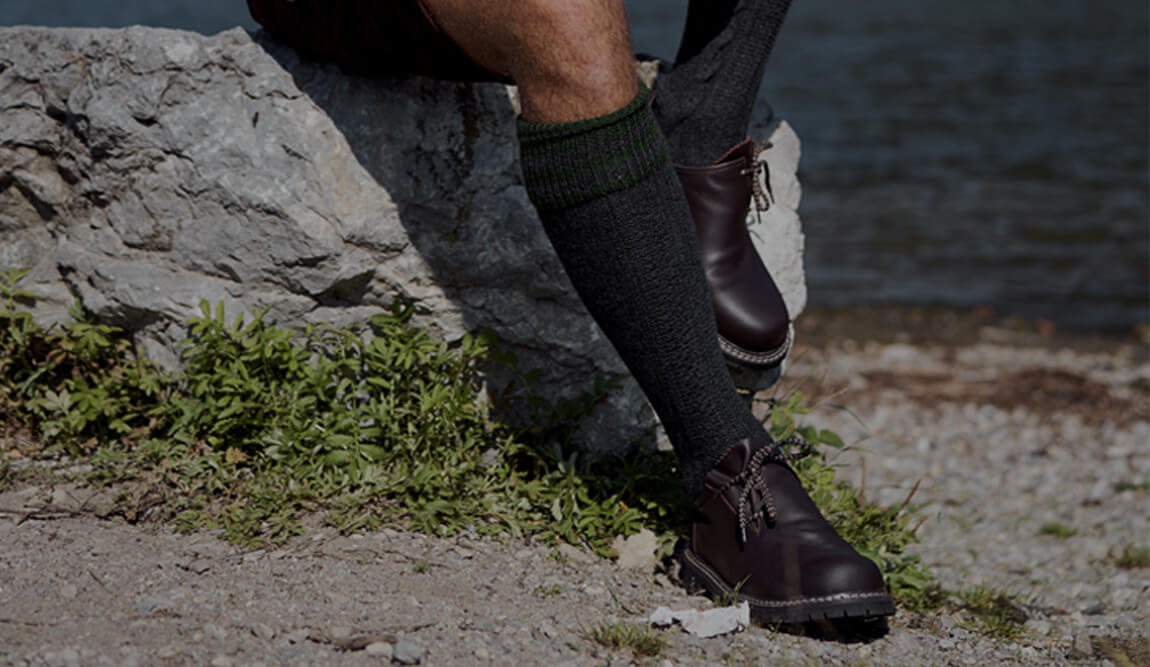 Want some more? Discover our accessories!
Finally, the basis of your Bavarian costume look is settled. But, still, it might lacking the final tough. Upgrade your outfit with a beautiful bavarian belt or an elegant costume hat. Give your outfit the final i-point!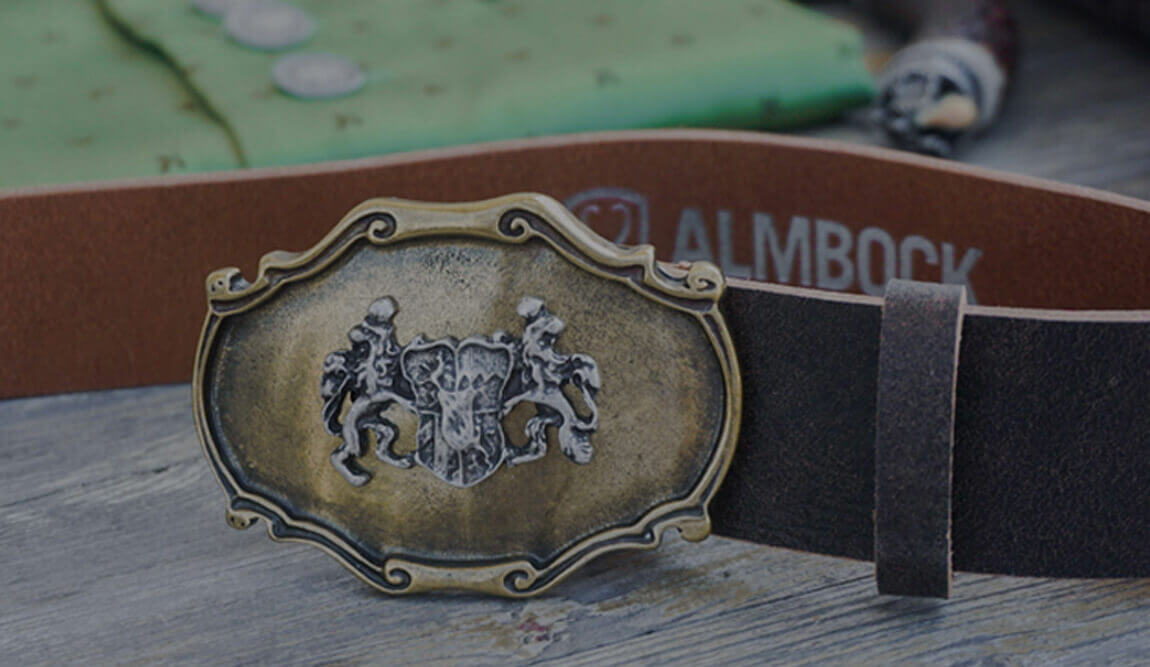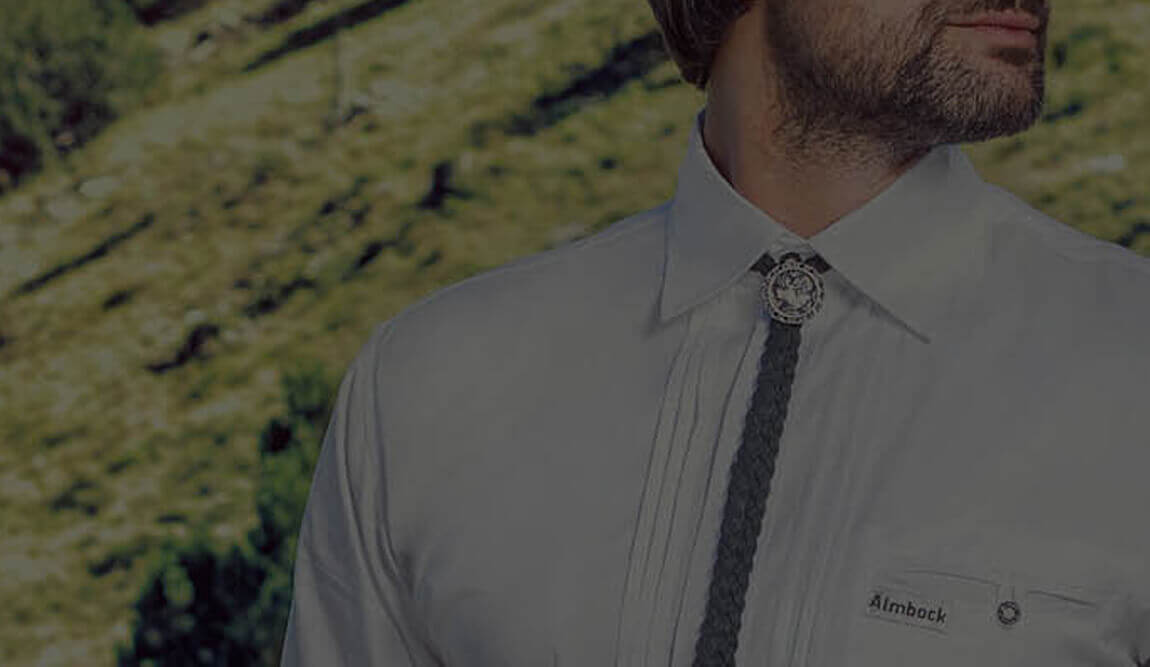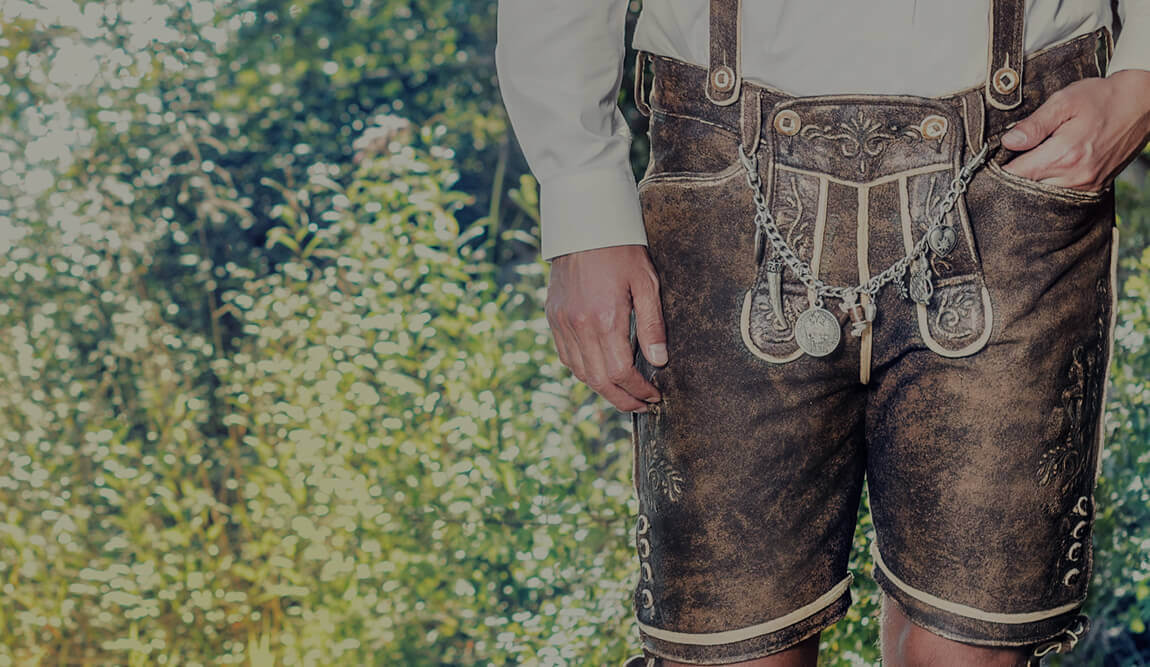 The Oktoberfest look for him
Take genuine Bavarian lederhosen and combine them smartly - ready is the Oktoberfest look! Sounds easy, doesn?t it? In real life, it?s not always so simple to find the perfect Bavarian costume outfit. At first, already the range of different lederhosen can be overwhelming. Don?t worry, we can help. Your perfect Oktoberfest look for men is not so far away:
The Lederhosen
These pants made of leather represent the Bavarian culture like no other piece of clothing. But over the years, different types of lederhosen have established. Those don?t only vary regarding the cut and design but also in case of the leather.
The decision between medium length lederhosen und short lederhoen is sometimes quite easy. Most men of Bavarian fashion have a special preference. Got sturdy calves and no desire to wear a waistband in your popliteal fossa? Then the short version is probably the better choice.
Suede, goat and deer skin have evolved as the main basis for Bavarian lederhosen. Here and there you can find one made of buffalo leather which is as solide as suede but slightly rougher on its surface. The cattle?s skin is clearly the price-performance winner. Goat skin lederhosen are made of the wild goat?s leather and wear a little bit lighter as other kinds of leather, which doesn?t make it less durable. The most precious material a pair of lederhosen can be made of is the deerskin. Supple, resistant and highly dashing ? especially if it?s chamois tanned.
The combination
As soon as the lederhosen are chosen, you are more than welcome to combine just as the fancy takes you. What happens to be essential is traditional Bavarian shirt, which exist in the varied designs by now. If you like it more elegant, you can slip a noble Bavarian vest over your shirt. Especially in spring or fall season, there?s no harm in bringing a warm Bavarian cardigan or even a Bavarian jacket with you.
Proper Bavarian shoes and matching socks are also an essential part of an original Bavarian look. In case of short Bavarian lederhosen, you also can choose long stockings or even ?Loferl?.
There it is, the perfect outfit for the Oktoberfest is finished. You can?t get enough? We invite you to browse through our Bavarian accessories! Some lederhosen looks wonderfully get along with a proper Bavarian hat, a Charivari or with a traditional Bavarian knife.